News
New Thunderbird version 91.3 available
Mozilla continues to maintain the free mail client on a regular basis and this update fixes some issues.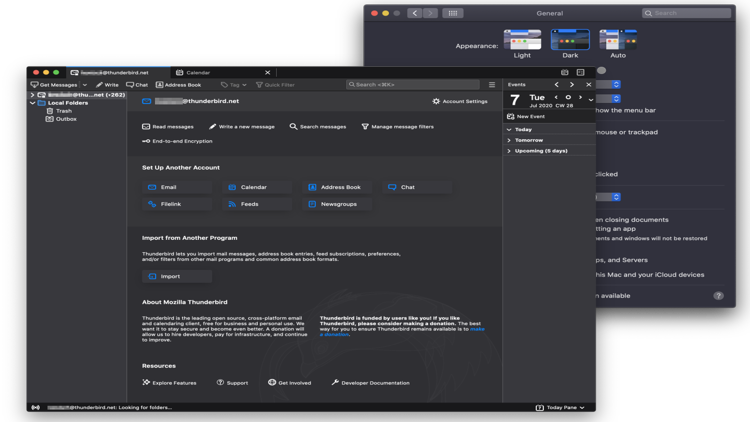 Thunderbird is still the standard mail client software for many users. Mozilla continues to maintain the free software on a regular basis. An update has now been released that fixes some bugs.
The new Thunderbird version 91.3 is available for Windows, macOS and Linux. This time the developers fixed some bugs, some of which were annoying for users. As Mozilla announced in the official release notes, a bug in the mail tabs has been fixed. There were also issues with standard email headers.
Refreshed look
There is a visual update for Thunderbird with practically every major version jump, version 91 offered numerous design improvements, especially for the recently added Dark Mode. In addition, the look for notifications of new emails has been optimized. The interface for adding attachments has also been adjusted.
New keyboard shortcuts
Keyboard and shortcut enthusiasts in particular will be delighted with version 91 of Thunderbird. Because the update adds some practical shortcuts, especially when writing e-mails.
If you want to put someone in CC or BCC, you can now navigate to the corresponding address fields with the shortcuts Ctrl+Shift+C or Ctrl+Shift+B. To add files, the shortcut Ctrl+Shift+A is now sufficient instead of clicking the Attach button.
Improved built-in calendar
The calendar is already a native part of Thunderbird. In version 91 there are now numerous improvements such as handling of appointments and tasks. If you click on an appointment, the confusing editing mode no longer opens immediately, but a slim pop-up for viewing the appointment information, such as title, calendar, time and description. If you want to edit the appointment after all, you can do this using the edit button.
Since the previous version, Thunderbird no longer supports the old extensions, but only relies on web extensions, which are called Thunderbird Mail Extensions. To make the switch easier, Thunderbird now automatically suggests alternatives for discontinued and incompatible add-ons in version 91. When creating appointments, the color of calendars and categories is now also displayed in the selection menu. In version 91, the HTML5-based PDF.js PDF viewer is integrated in Thunderbird, which is already used in Firefox.
You can find all changes in the official release notes.
---
Users can download the new version from UpdateStar or from the official website.
Thunderbird on UpdateStar | Download
about author