News
Thunderbird version 102.0 available
Thunderbird's major annual update offers a number of new features.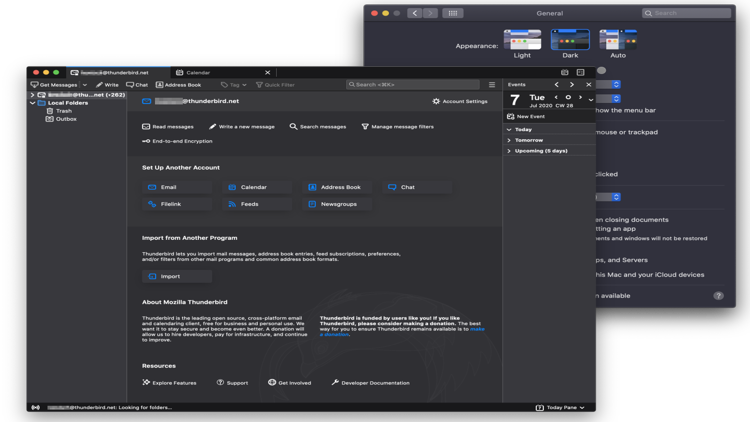 Thunderbird is the a popular and probably the best alternative to Outlook. The annual major update is available now and offers many innovations.
Although WhatsApp, Facebook and Co. are very popular, e-mails are still important. It is therefore worth using an appropriate program. In addition to the market leader Outlook, there are other strong alternatives. Mozilla Thunderbird offers extensive functionality.
The current Thunderbird version 102.0 is available for Windows, macOS and Linux as a free download.
As always, Thunderbird's major annual update brings you a host of new features:
Redesigned address book

New dialog for import and export

Revised design with fresh icons

More professional settings for OpenPGP

Vertical toolbar for easier navigation in the app called Spaces Toolbar
As always, minor changes and bug fixes have also been made. You can find all innovations in the official Thunderbird blog post:
https://blog.thunderbird.net/2022/06/thunderbird-102-released-a-serious-upgrade-to-your-communication/
Thunderbird: Send large file attachments
Many mail servers do not accept messages with large file attachments. File size limitation varies by provider. Even if you, as the sender of the message, can send large file attachments, there is a risk that the receiving mail server will not accept the message with a large attachment.
The file link functionality has now been optimized. This allows you to upload large file attachments to the cloud and then send the relevant link to the recipient of your message, rather than attaching the large files directly to your message.
In order to be able to use this function, you must first install a Filelink add-on for a desired cloud provider (alternatively, WebDAV servers are supported) and create a new account with this provider or configure an existing account accordingly.
Once set up, Thunderbird can automatically suggest using Filelink for emails with files larger than 5 MB (the default setting can be adjusted), where the attachment can then be uploaded.
Built-in calendar improved
The calendar is now a native part of Thunderbird. In version 91 there where already numerous improvements. Particular focus was placed on easy handling of appointments and tasks.
If you click on an appointment, the confusing editing mode no longer opens immediately, but a slim pop-up to view the appointment information, such as title, calendar, time and description. If you then want to edit the appointment, you can do so using the Edit button.
---
Users can download the new version from UpdateStar or from the official website.
Thunderbird on UpdateStar | Download
about author