News
Thunderbird 91.0.2 update available
New keyboard shortcuts for easier operation implemented.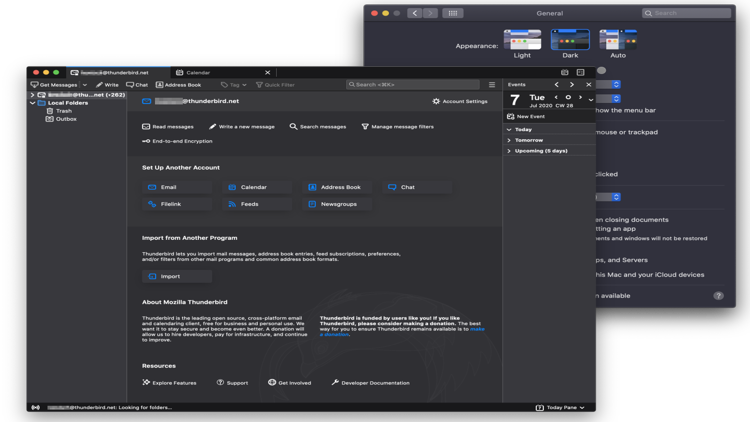 Thunderbird is one of the popular mail clients and this small update for version 91 brings bug fixes as well as some new functionality. With the leap to version 91, numerous improvements came. In addition to an optimized design and bug fixes, the calendar and the editing of emails have been improved. The update also made it easier to switch from old extensions, whose support has already ended before.
The new version of Thunderbird 91.0.2 and is available for download for Windows, macOS and Linux now. In addition to bug fixes, there is a new setting that allows users to hide the display of the number of unread mails in the Windows taskbar. In addition, tags in the mail filter are now displayed in color.
The automated update functionality in Thunderbird does not yet offer version 91 for download. For the time being, anyone wishing to upgrade from version 78 to version 91 will have to download and install the software manually.
There is a visual update for Thunderbird with practically every major version jump, version 91 also brings numerous design improvements, especially for the recently added Dark Mode. In addition, the look for notifications of new emails has been optimized.
The interface for adding attachments has also been adjusted. WeTransfer has been removed as the standard provider for FileLinks and the corresponding option in the drop-down menu has also been removed. The warning for large file attachments remains active. This also takes you to the appropriate settings in which you can define a FileLink storage service such as Dropbox yourself.
New keyboard shortcuts for easier operation
Keyboard and shortcut enthusiasts in particular will be delighted with version 91 of Thunderbird. Because the update adds some practical shortcuts, especially when writing e-mails.
If you want to put someone in CC or BCC, you can now navigate to the corresponding address fields with the shortcuts Ctrl + Shift + C or Ctrl + Shift + B. To add files, the shortcut Ctrl + Shift + A is now sufficient instead of clicking the Attach button.
Built-in calendar is improved
The calendar is now a native part of Thunderbird. In version 91 there are numerous improvements. Particular focus was placed on the simple handling of appointments and tasks.
If you click on an appointment, the confusing editing mode no longer opens immediately, but a slim pop-up for viewing the appointment information, such as title, calendar, time and description. If you want to edit the appointment after all, you can do this using the edit button.
Extensions
Since the previous version, Thunderbird no longer supports the old extensions, but only relies on web extensions, which are called Thunderbird Mail Extensions. To make the change easier, Thunderbird now automatically suggests alternatives for discontinued and incompatible add-ons in version 91.
You can find all changes in the official release notes.
---
Users can download the new version from UpdateStar or from the official website.
Thunderbird on UpdateStar | Download
about author